20/9/2013
On Fidelity
My wife and I recently spent a long weekend in Baltimore. My mentor's daughter was married at the Howard County Conservancy, and we gave ourselves an extra day in the city and flew back on a Monday. It was the first time I'd been to Baltimore, and the first time I've been that close to D.C. since 1997.
There were some pretty awesome highlights: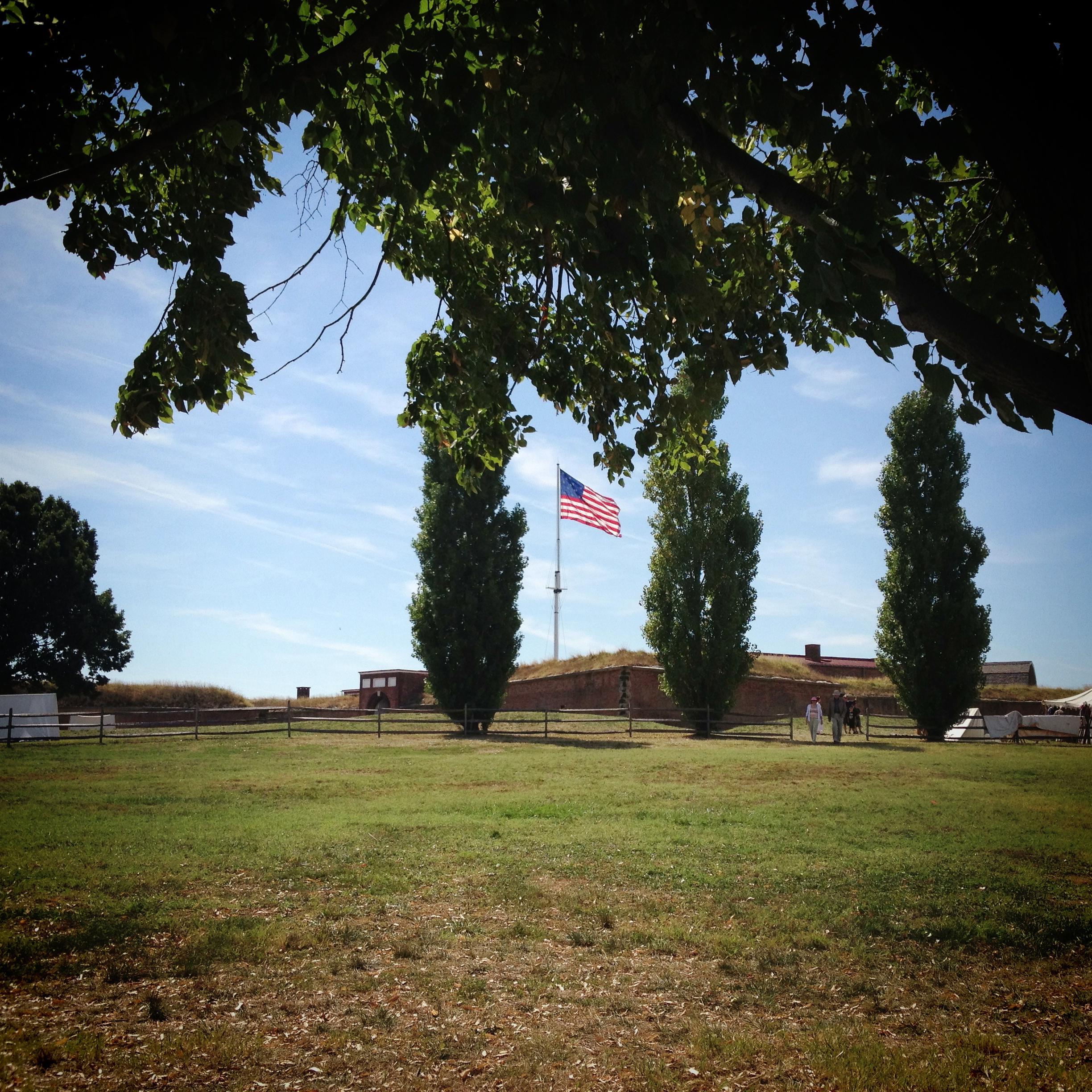 Our flag is still there.
Fort McHenry is fantastic. The place is full of history, not only from the War of 1812, but also the Civil War, WWI, and even WWII. It's something to stand on the ramparts and think about what this place meant. Even if you don't care for the Star Spangled Banner as an anthem, putting yourself in the mindset of the defenders of a young nation against their former colonial overlords makes the fort's official name — "Fort McHenry National Monument and Historic Shrine" — make perfect sense.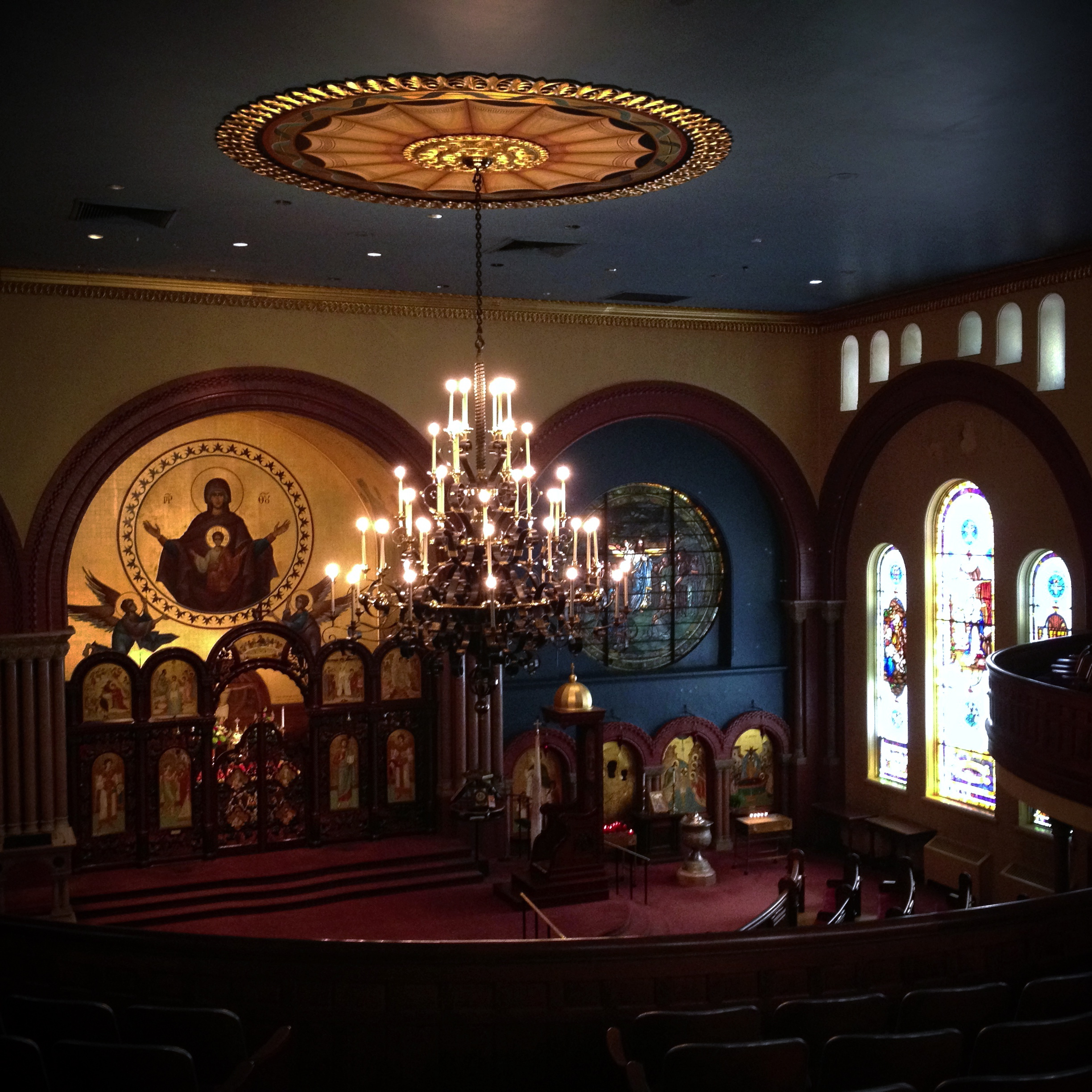 Interior of Baltimore's Greek Orthodox Cathedral of the Annunciation.
The Greek Orthodox Cathedral of the Annunciation. We arrived near the end of Liturgy and watched a proud father of infant twin girls showing off one, presumably there after her forty day blessing, to any and all who passed by him after Liturgy. The cathedral itself is gorgeous inside and out, as you can see above.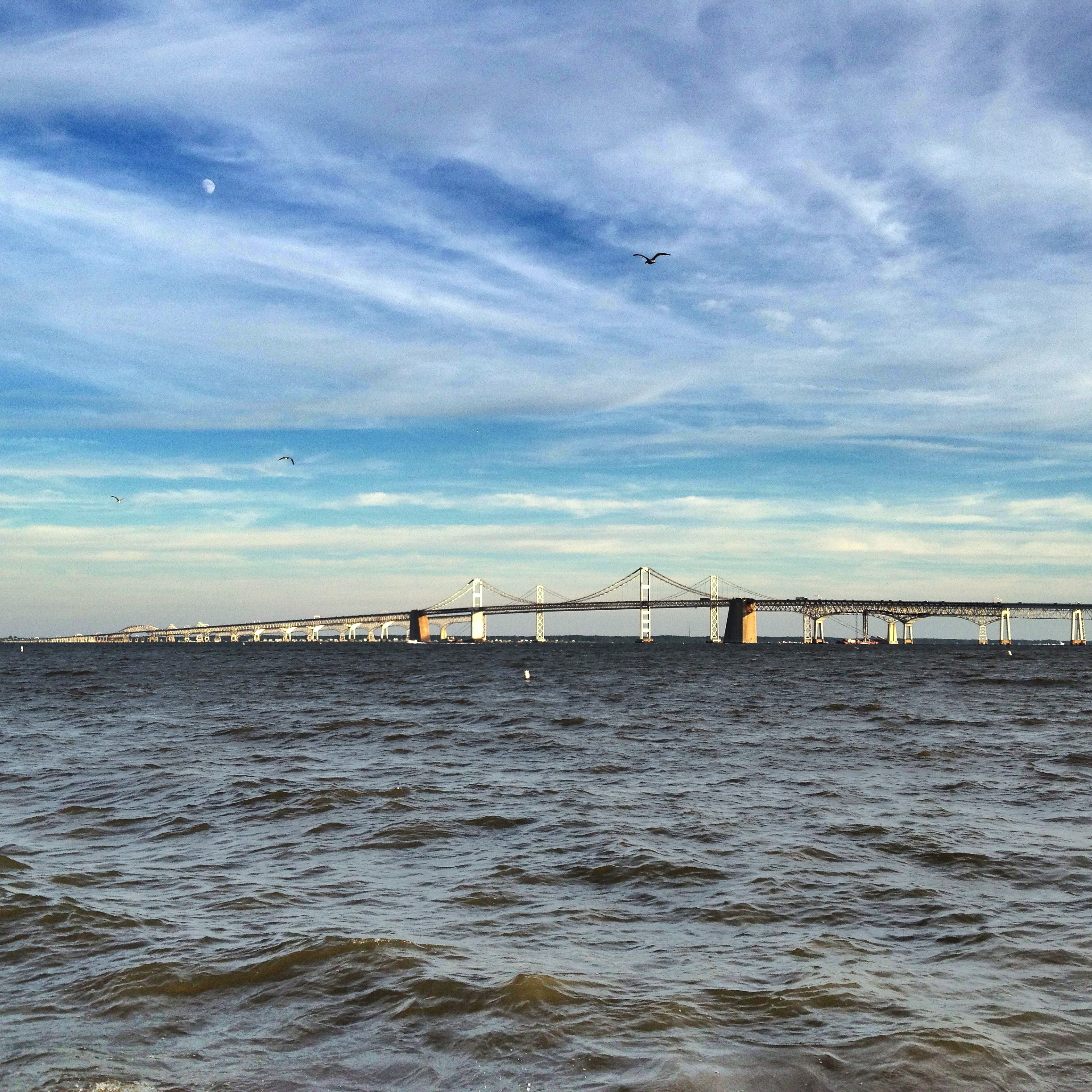 The gulls had plenty of breeze to soar and wheel on. I was very happy to capture the moon as it emerged from behind the clouds.
Sandy Point State Park is very pretty, and the beach looks out on the Chesapeake Bay Bridge and the shipping traffic steaming through the bay. If you want to dip your toes in the Chesapeake, or fly a kite on a windy day (as Sunday was), this is a great place to do it.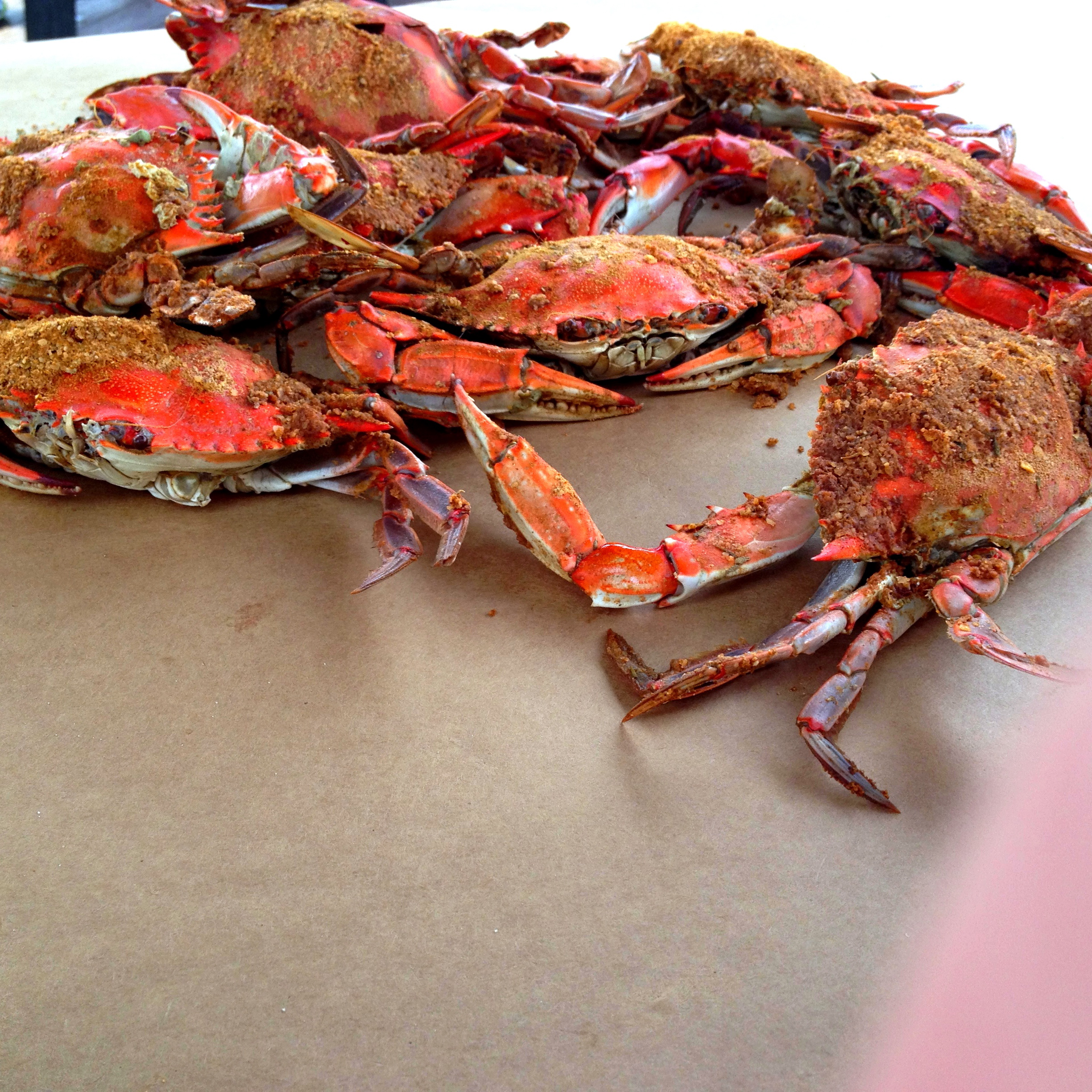 Our supper guests were crabby.
Crab. You probably have heard the crab in Baltimore is good. It is.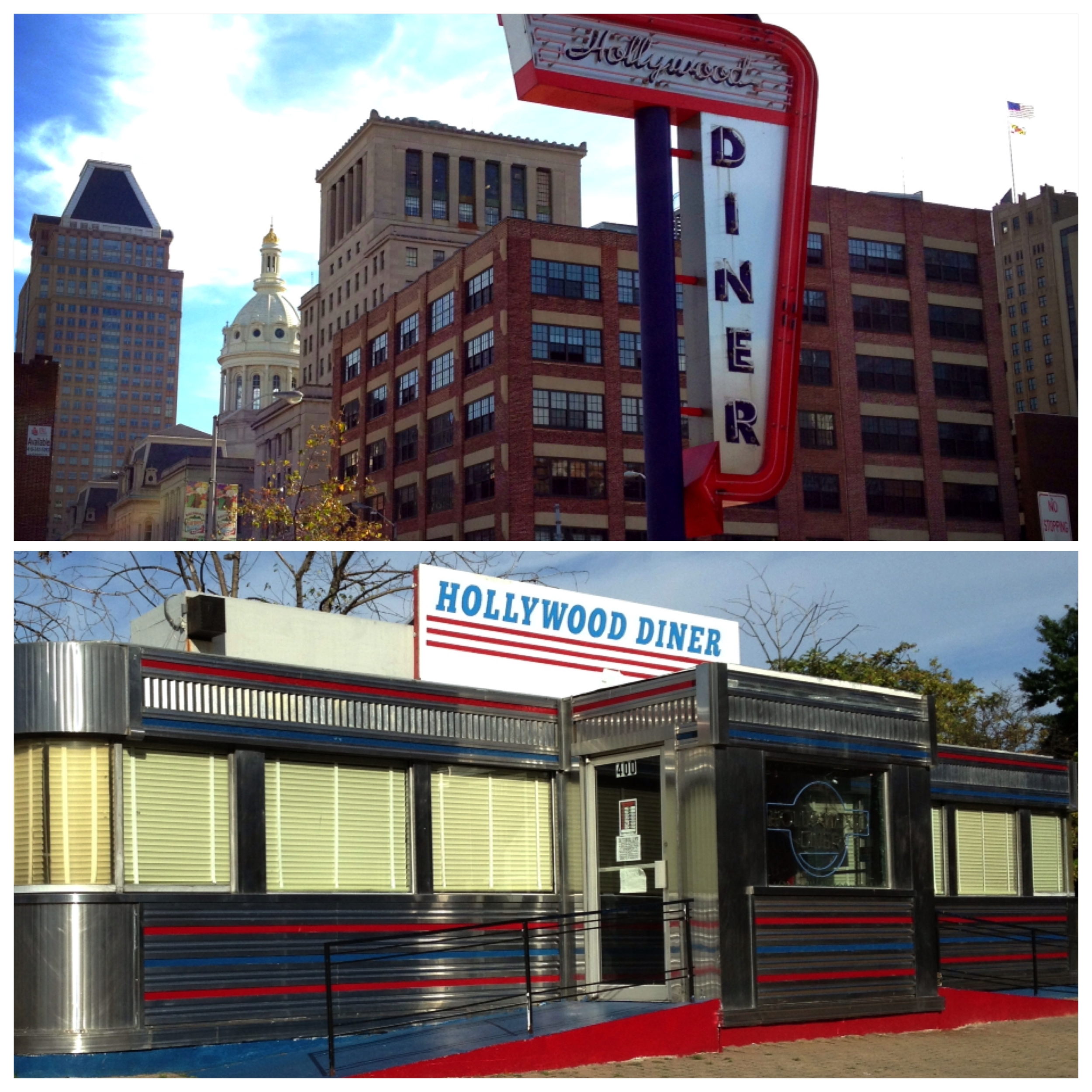 Movie locations. One of my favorite films, Avalon, was shot in Baltimore. It's the third film in Barry Levinson's 'Baltimore trilogy,' which also includes Diner and Tin Men. (A fourth film, Liberty Heights, was added nearly a decade later.) We found the diner from Diner, and the row house Ernest & Nora Tilley (Danny DeVito & Barbara Hershey) share in Tin Men, which is the same house the Krichinskys and Kayes (first-generation Krichinskys who Americanized their last name) live in before moving out to the suburbs (and forever fracturing their immigrant family) in Avalon. Other locations from the films are scattered across the city and surrounding area.
One note about this last highlight. It wasn't actually a highlight, or it wound up being a very mixed experience for me. I was thrilled to see the diner, which just outside the city core, sadly located next to a couple of expressway ramps. The business was closed; the owner apparently has cancer and struggles to keep the place open even four days a week for breakfast & lunch.
The row house from Avalon, however, drove home to me one of Baltimore's hard realities. We accidentally drove to the wrong address first, 3107 Clifton Ave instead of 3107 Cliftmont Ave. The Clifton address put us in the Walbrook neighborhood on Baltimore's west side. It bore the scars of terrible urban management: dilapidated strings of once-beautiful brick row houses with only a few occupants, the rest boarded up and crumbling; vacant lots choked with tangles of tall weeds; pockmarked streets and sidewalks; payday loan pushers; and a very distinct absence of white folks.
One corner — W North Ave & N Dukeland St — really drove the point home. Standing in front of a row of once-charming brick houses, several boarded up and vacant, their wooden porches in the protracted but inevitable process of falling down, was a beat-up wooden bench at a bus stop. On it was written "Baltimore - The Greatest City in America." Had we not been rushing to see the Avalon house before we had to get to the airport, I would have jumped out of the car to capture with my camera the juxtaposition between claim and reality. This is a city which very clearly has not tried to live up to its motto, at least the folks consigned to live in its poorest neighborhoods.
Since we drove to the wrong address, I nearly decided to call off our trip to the Avalon house. It was fifteen minutes away, and we had about two hours and fifteen minutes until our flight. With luck at the rental car return and airport security we'd make our flight, so we headed off for Cliftmont Ave, in the Belair-Edision neighborhood on Baltimore's northeast side. We found it. Go read the Wikipedia article on Belair-Edison. It sounds like a lovely place to live between the 1920s and 1960s or so. Single-family homes, a brewery, a vibrant Bohemian community, access to nearby places like Druid Lake. Basically, exactly as Avalon depicts it. Things changed in Belair-Edison. It looks to me like the neighborhood was devastated by a combination of white flight, badly managed relocation from housing projects, and straight up willful ignorance by the city. The houses appear nicer than those in Walbrook, but that doesn't mean Belair-Edison is a nice place to live. The Wikipedia entry says "Belair-Edison has led the Northeast District, which also has led Baltimore City, in murders for the last several years," and points to parasitic slumlords pocketing Section 8 vouchers from residents as a main factor in the neighborhood's atmosphere of resigned desperation.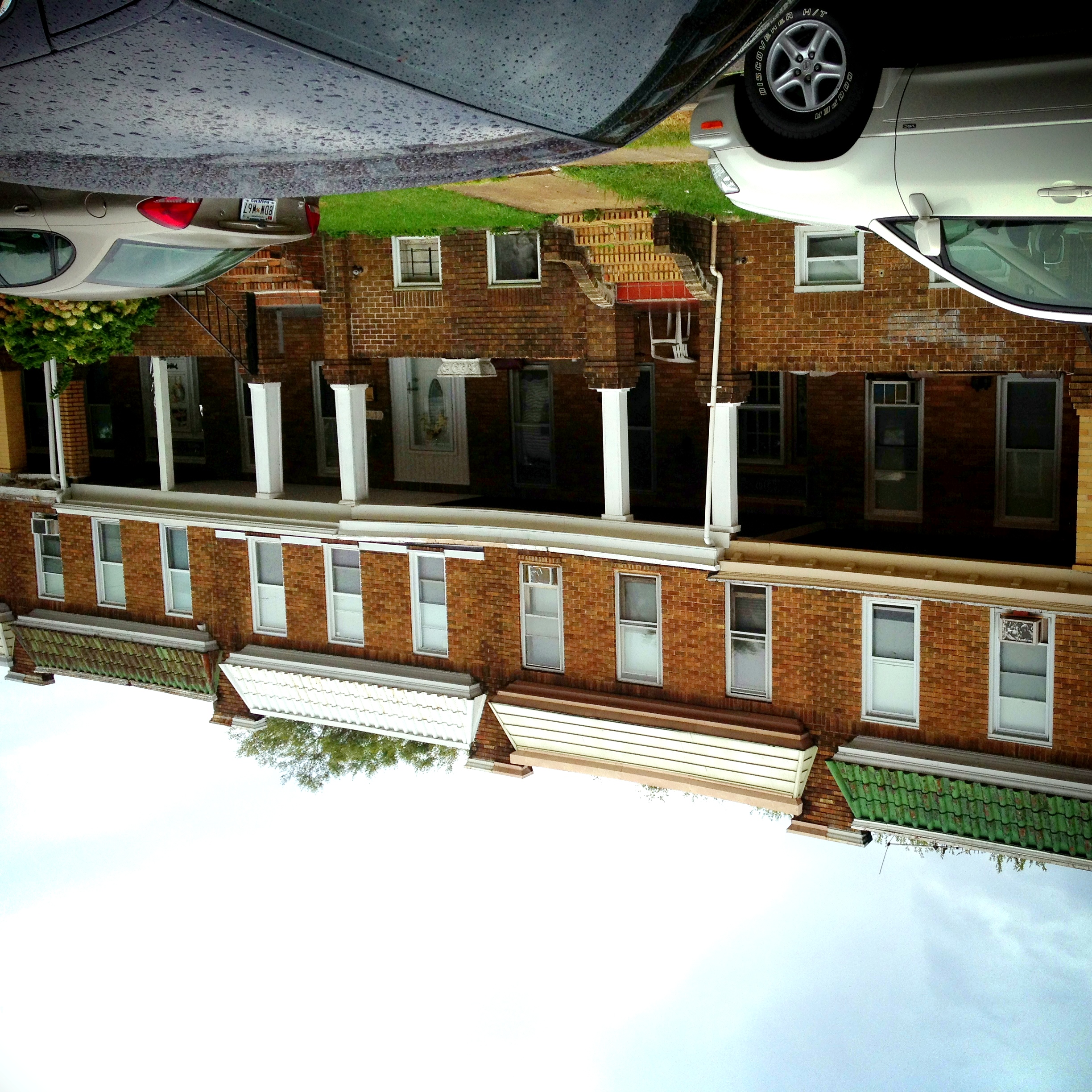 The Avalon house, second from left.
There weren't many white folks around, and once we found it I debated whether it was even appropriate to take a picture of the Avalon house. An older black gentleman was standing on its porch, smoking a cigarette, when we pulled up across the narrow street. We sat there in the car for a few minutes while a couple other residents eyed us. Cigarette smoked, the older man went back inside. I hesitated again, and when he reemerged and sat down in a plastic chair on the porch, I got out and took one picture, framing it so he was behind a pillar and wouldn't feel like I was invading his privacy more than I already had.
Then, swallowing hard, I walked across the street and up to his front step, staying on the sidewalk. I began an apology, "I suppose you see the occasional crazy white folks stopping by…"
He stopped me. "I know what you're up to," he said quietly, pausing from puffing on an inhaler. Cursing my hearing loss, I asked apologized for asking him to repeat himself. "I know what you're doing," he said.
He put the inhaler back in his mouth. Our conversation was over.
I honestly can't remember if, as I walked away, I said I was sorry, or thanked him for being kind, or what. I was happy I had found the house that was so central to one of my favorite movies, and happy that someone was living there. Perhaps the house will remain standing and occupied for decades to come.
But I'm not happy with how the old gentleman and his neighbors in Belair-Edison have been neglected, or had their community's needs shrugged at by city officials, or however you care to describe it. It's not right. It was clear I didn't belong there, both as a tourist and as a white man. I don't care about Belair-Edison's demographic change from a Bohemian neighborhood to a majority African-American neighborhood. It wasn't the color of my skin that was the problem, though it clearly identified me as an outsider. It was the economic disparity between me and the residents which really was the problem. I was just looking for a house from a movie I admire, but I may as well have been a disaster tourist as far as the old man on the Avalon house's porch — his porch — was concerned. And though that certainly wasn't my intention (I don't know one area of Baltimore from another), he was right. I was a tourist in an economic disaster area, a place where people are cheated by slumlords and robbed of dignity by the City of Baltimore, which apparently has allowed this situation to continue for the twenty-plus years since Avalon was filmed in Belair-Edison. This neighborhood could be a treasure, not just for its residents, but for the city. It once was, and if someone gave enough of a damn, it could be again.
To the old gentleman on his porch, I wish I could remember the last words I said to you. I can't apologize again without invading your privacy, but I promise I learned a lesson. You, and Fort McHenry, will be the Baltimore which will stick in my memory.
Baltimore cinema travel urban America
---
Previous post
We come nearest to the great when we are great in humility.
Animation discovered via Andrew Sullivan's Daily Dish. There are a couple things which seem incredible and noteworthy about this representation of
Next post
That belongs in a museum!
I team-teach a cultural history course on the Vietnam War at the University of Wisconsin-Madison. I'm putting together a mini-lecture on what I'll