24/9/2013
That belongs in a museum!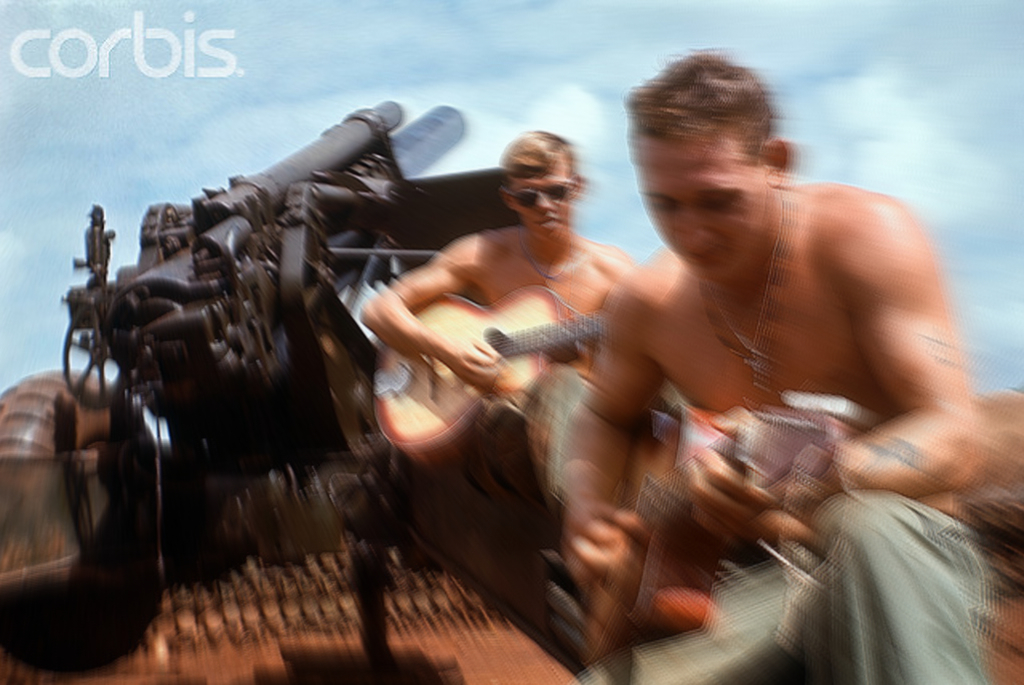 A low-res, pirated copy of a fantastic shot of two 11th Armored Cav soldiers at Loc Ninh (1969), now owned by Corbis. I have obfuscated most of the photo with editing software to avoid running afoul of Corbis.
I team-teach a cultural history course on the Vietnam War at the University of Wisconsin-Madison. I'm putting together a mini-lecture on what I'll call "GI couture" — the hairdos, uniform modifications, and various fashion accoutrements like Montagnard bracelets, peace medallions/buttons, worn rosaries, etc popular with (and unique to) those serving in Vietnam. One goal is to get our students to think about what kind of message a Marine, sailor, soldier, or airman is sending by the way he wears or modifies his uniform or grooms his facial hair, and who might be the intended recipient of the message depending on where in Vietnam the subject is stationed. The other is is to give them some tools to help them identify the different eras of the American war by examining the way troops are wearing their uniforms, and then to think about how troops are presented in the feature films we watch in our film festival or other Vietnam cinema they've already encountered. (Do the depictions fit with the era of the film's setting? Costuming can be as important as music in creating or fleshing out characters.)
Since I don't have access to any physical material from that period, I've been trying to find photos online. Flickr has proven to be a solid resource, though one which takes a fair amount of time to sort through and some creativity in crafting search inquiries. Corbis has thousands of images, many of them photographs taken by military and civilian combat journalists, but sells very expensive licenses in exchange for access to high-quality image and usage rights. Hi-res images are vital for some of the interpretive work I'd like to do because they provide the best available level of detail for things like poems, mottos, or other messages that were frequently written by troops on helmets, flak jackets, or even vehicles.
Every time I find a great photo somewhere which would work perfectly for the lecture and then look for a high resolution version on Corbis , I wind up feeling like Indiana Jones trying to retrieve the Cross of Coronado from Panama Hat.
digital media history military history Vietnam War
---
Previous post
On Fidelity
My wife and I recently spent a long weekend in Baltimore. My mentor's daughter was married at the Howard County Conservancy, and we gave ourselves
Next post
One Dot per Person
Via Wired, an incredible piece of cartography: Drawing on data from the 2010 U.S. Census, it shows one dot per person, color-coded by race. That's